The Painting
The idea for Spark of Creation Therapy and its logo all started with a dialogue about the nature of therapy and what Jack Rosenberger believes happens in the process of therapy. The painting was then commissioned and serves as a touchstone about what therapy can mean if engaged with commitment from both the therapist and the patient.
In short, therapy can provide the insight and clarity that empowers a person to entertain making different, sometimes difficult choices. This insight–that life could be different–is the spark of intuition that, if acted upon, can transform a life. People can move from overwhelming symptoms to optimal living: living out all the talents and dreams that a person has had and might have been afraid to look at, and even discovering passions and talents that he/she might not have ever dreamed existed. This spark can recreate a person, in a sense, bringing to completion a process of development that might have had its origins many years before the first session of therapy. In this way, the painting reminds the therapists at Spark to honor and respect every dimension of our patients' selves; to be mindful that we do not create the spark of healing, we simply bear witness to its power.
From The Artist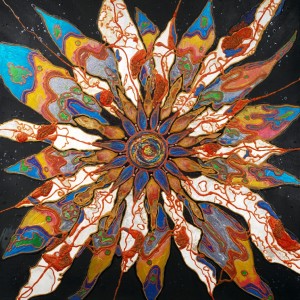 The Spark of Creation
Size: 36x36x1.5 deep
Process: 7 layers of black gesso – representing the levels of heaven (although that can be argued – I felt 7 was a good number to use). With each layer of gesso and each day of sanding I did 2 rakats/prayers.
I used a new product Golden absorbent ground in some ares of the painting – this acrylic liquid surfacing medium dries to a high absorbency, porous, paper-like surface. Applied over gessoed canvas, it allows for raw canvas-like staining techniques and watermedia applications with acrylic or watercolor paint. Lightfast, permanent, and flexible.  It helped create a crackling effect with the paint that was a happy accident.
The paint was a mixture of TRUE pigments (vermilion red /french substitute, cobalt blue, red gold) and fabric pigment powders (Aztec gold, copper, pumpkin orange, cobalt blue) mixed in golden's acrylic heavy gel medium. I also used another new product – Daler Rowney Pearlescent Liquid Acrylic Artist's Inks – lightfast, waterproof, watercolor inks in shimmering, iridescent colors (Autumn Gold, Galactic Blue, Macaw Green, Volcano Red and Mazuma Gold). In addition I laid down a high end marbled white/gold/silver paper from Thailand and used fine and course raw garnet with glass beading in a gel medium for texture.
With each day of painting I always began with 2 rakats/prayers and often ended with another rakat. The praying was the PERFECT way to contemplate and of course ask for guidance – this was the most difficult painting I have done. It required EXTREME patience not to rush and go over parts that I found unsuitable. But with each prayer – I was able to calm myself and realize the beauty of the unknown and acceptance of however the paint decided to move and evolve. In the end – when I began the detailing – the lines the wrapped each piece of decorative paper and each color – I began to see how the complexity of the piece was forming to one cohesive idea – Spark of Creation.
The benMUSA Collection
Anas Ben-Musa – 713.443.0637
http://www.transluceo.com