Jack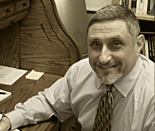 Jack Rosenberger, M.Div, LCSW

email
Jack Rosenberger is a Licensed Clinical Social Worker who has worked with adolescents, young adults, and their families from the North Shore since 1989 in various capacities: teaching, coaching, spiritual direction, and psychotherapy. Jack holds a masters degree in social work from Loyola University Chicago and a masters of divinity from Yale University. In this way, he is able to bring the strengths of a patient's spiritual life into the process of psychological and emotional healing. Individuals of the most diverse backgrounds find they can bring their whole selves to therapy with a feeling of safety. Having worked successfully with Orthodox Jews, Reform Jews, Roman Catholics, Evangelical Christians and practicing Muslims, Jack is comfortable speaking a number of theological languages if this should augment the process of therapy.
Some of the psychological and emotional issues with which Jack has significant experience include:
addictions
substance abuse
self injury and self harm
depression
bipolar disorder
attachment disorders
ADHD
impulsive/explosive disorders
sexual concerns/issues
gay/lesbian concerns
anxiety disorders
school phobia
difficulty moving to the next stage of life/fear of failure
spiritual concerns/problems
somatic issues like pain, stomach issues, migraine headaches and other physical manifestations of emotional turmoil
family discord and confusion
Jack Rosenberger is clinical director of Spark of Creation Therapy and is proud of the level of care that Spark brings to each patient. Spark of Creation Therapy was created to bring psychological services to those that other agencies and hospitals have failed to reach. Thus, Spark was created to build the breech in the wall and to provide a singularity of focus on the task of assisting people to reach their goals.
Jack is a member of the National Association of Social Workers and as a member he fully supports and adheres to its Code of Ethics. Good care cannot be reconciled with unethical behavior.